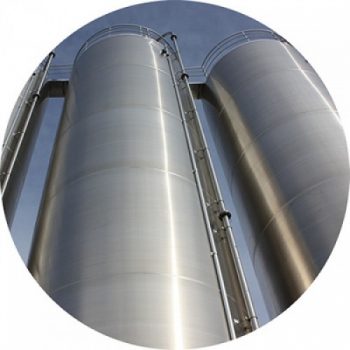 Depending on the density of the product, its requirements and the place of installation, one technology or another must be applied.
Specific solutions with finishes in stainless steel, aluminum, GRP, textile or carbon steel.
Static or mobile equipment
Equipment for indoor or outdoor installation
Silos with up to three cameras
Designs for cleaning and drying the interior of the silo
Thermal isolation
With maximum and minimum sensors
Continuous and discontinuous level controls
Loading system for tankers
To design an effective storage system we must take into account the different variables that can influence:
Density of the material or materials and their specific requirements.
Place of installation and available space.
Applicable regulations.
Thus, the same design will not be made for a granulated material that for a pulverulent material, and the system we design will be different if it is located outside or inside a ship. Likewise, the height of the equipment may be limited both by the climatic conditions of the area and by the urban regulations of the locality in question, and we will not treat a PVC equal to a flour …
In storage systems, in general, you have to differentiate three different phases:
Procurement (collection and receipt of raw materials).
Intermediate products (processing).
Finished product.
The system will be designed specifically for each of the phases and special care will be taken in the transportation system used between them. And depending on the need we can decide between mobile or static equipment:
Mobile silos with capacities up to 360 liters.
Static silos with capacities up to 500 m3.
Static silos with agitator and capacities up to 40 m3.
Modular static silos square section with agitator up to 60 m3.
We adapt the shape of the silos to the requirements of the product:
Granulated product, with apparent density over 0.6 and 0.9 Kg / dm3, in general we will use silos of circular section with tubular or funnel flow, with discharge cone at 90º. The tubular flow consists of the formation of a flow channel aligned with the outlet of the silo, which is surrounded by a zone of material that initially remains static. In the discharge of a silo with tubular flow the material does not move all at once.
"The advantages of this type of flow is the lower wear, since the friction due to the discharge is negligible, the pressure supported by the walls is low (which saves material in the construction thereof), and abrasion on the walls It is smaller than in other cases, and, because of the degrees of the discharge cone, we have greater storage capacity with the same height, in general, it is a more economical silo. "
Pulverulent product, with apparent density over 1-3 Kg / dm3, we can use silos of circular or rectangular section with mass or mass flow, with discharge cone of up to 20º. The mass flow is that at the time of discharge all the stored product is in motion and respects the 'first-in-first-out' principle, and for this it is very important to design the shape and the exit angle well as well as an adequate outlet diameter.
"It is also very important to have a correct surface finish of the internal walls of the silo, since the higher the friction, the greater the adhesion and, therefore, the greater the exit diameter and the lower the degree of the cone, the vaults, chimneys and dead zones will be avoided. of a silo of greater economic cost. "
Product in flakes or flakes, with apparent density over 0.02 and 0.3 Kg / dm3, and lengths of up to 30 mm, we will use a silo of cylindrical section and flat bottom with three motorized internal agitators and a mechanical extraction system by means of a conveyor of screw.
"The agitators guarantee that the product is in continuous movement and does not get stuck, which facilitates the extraction of it."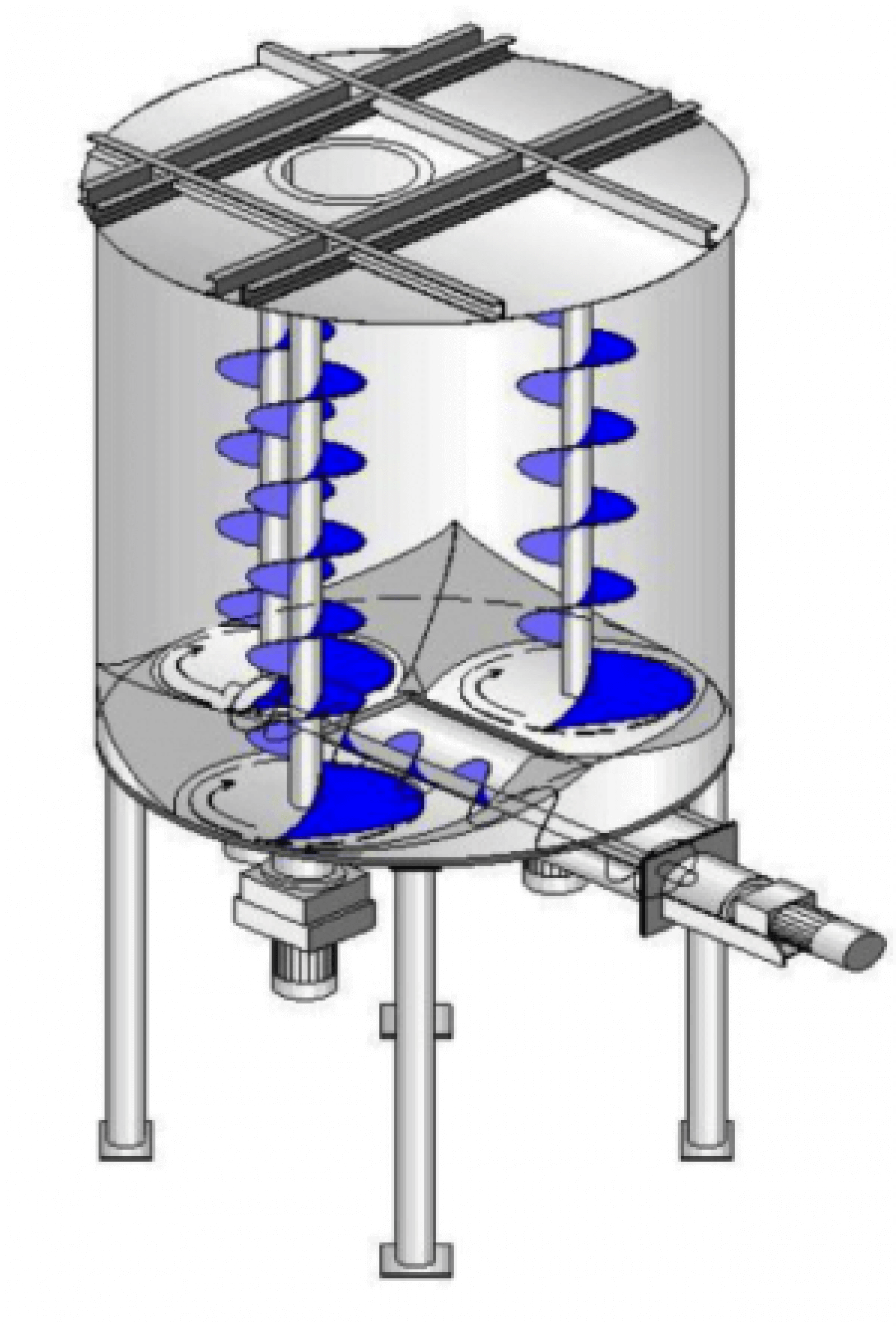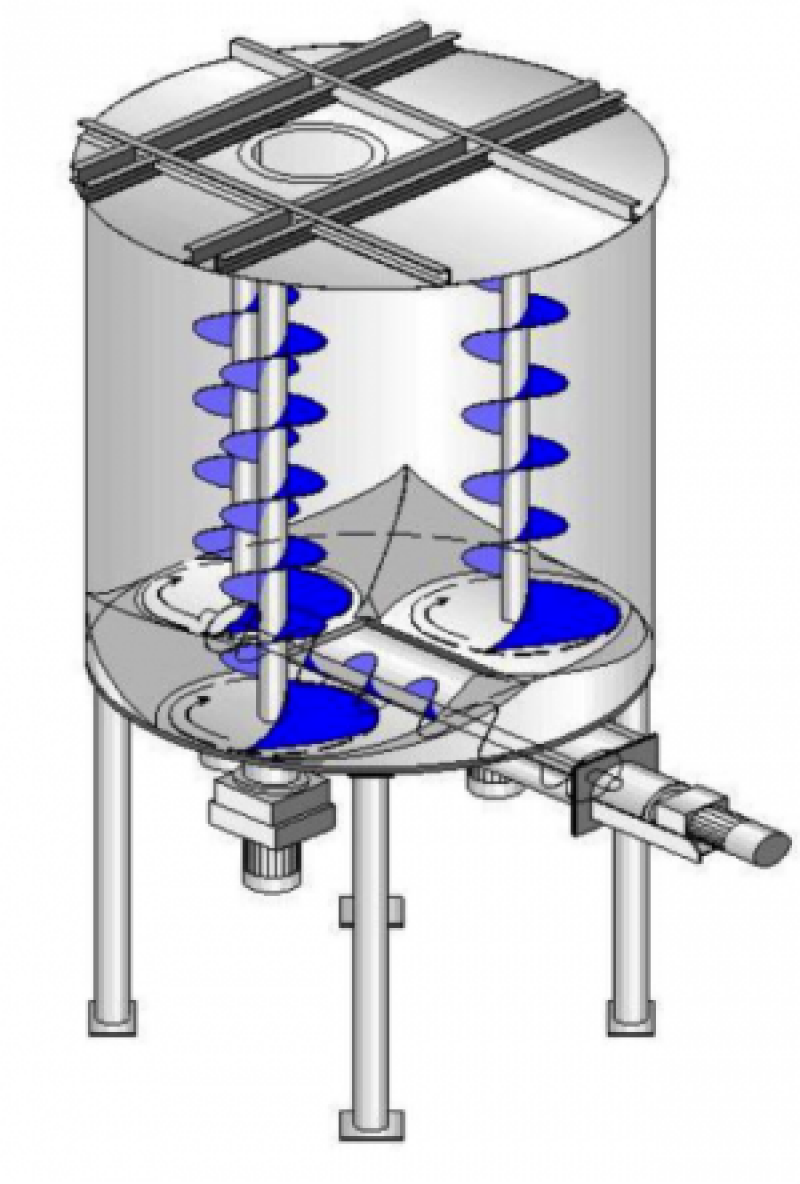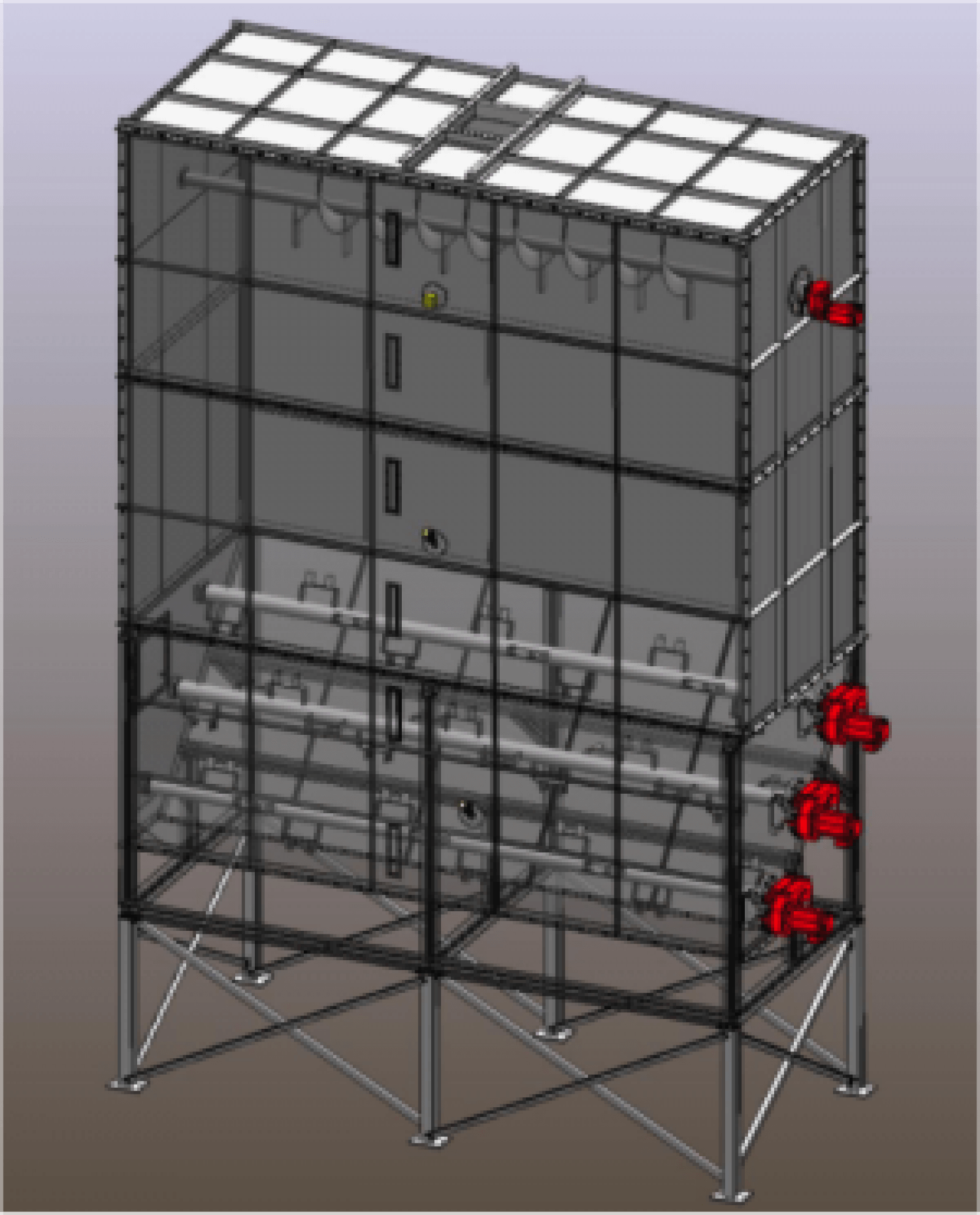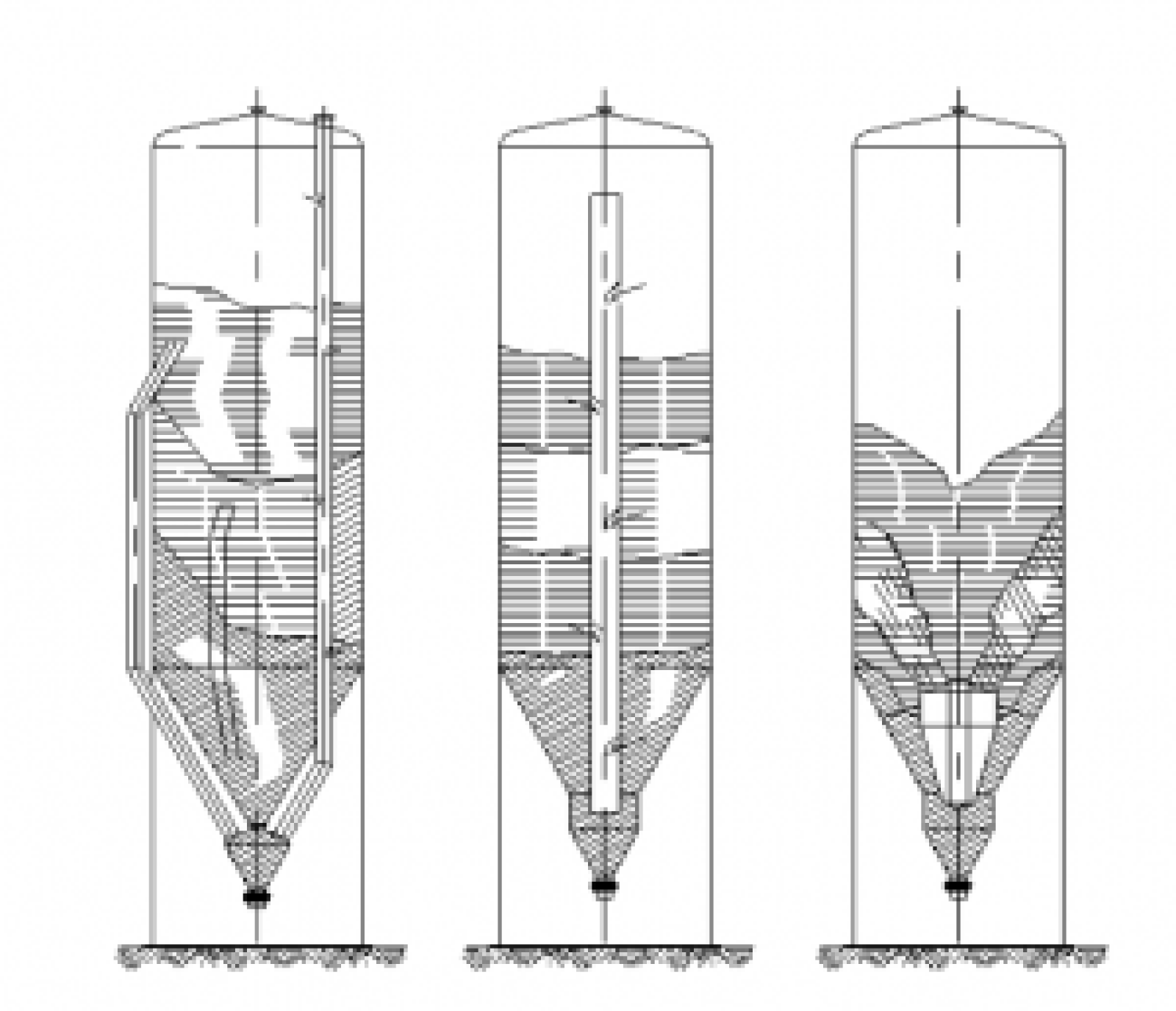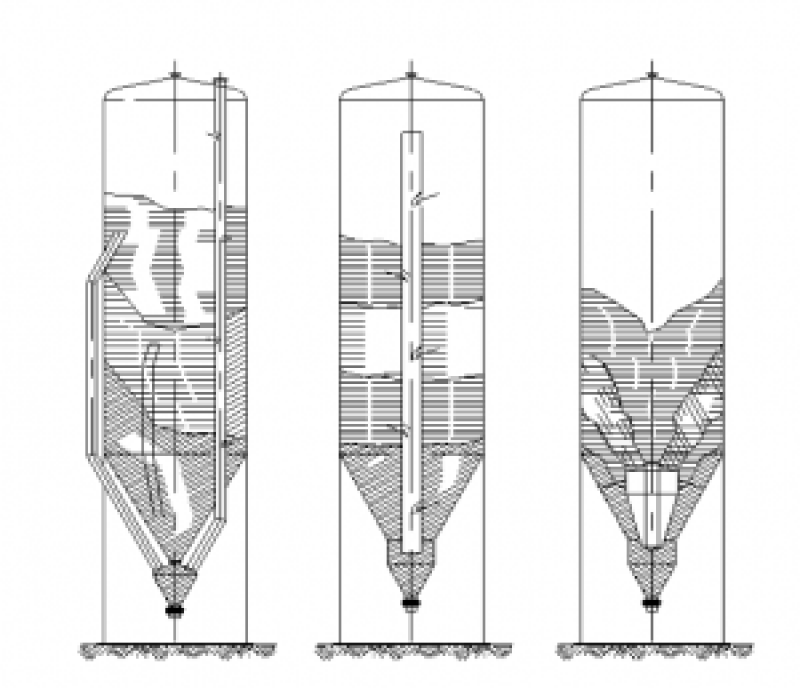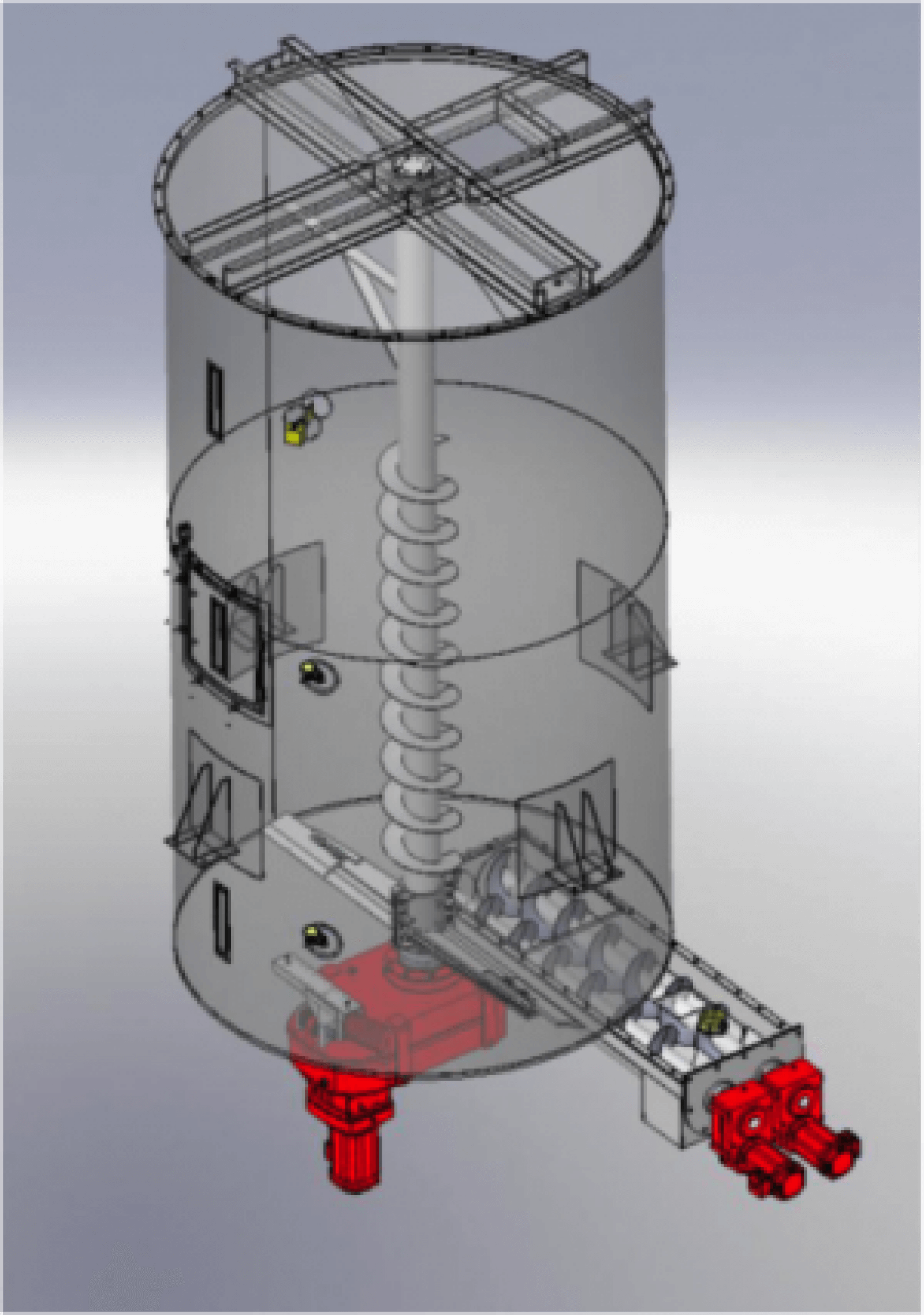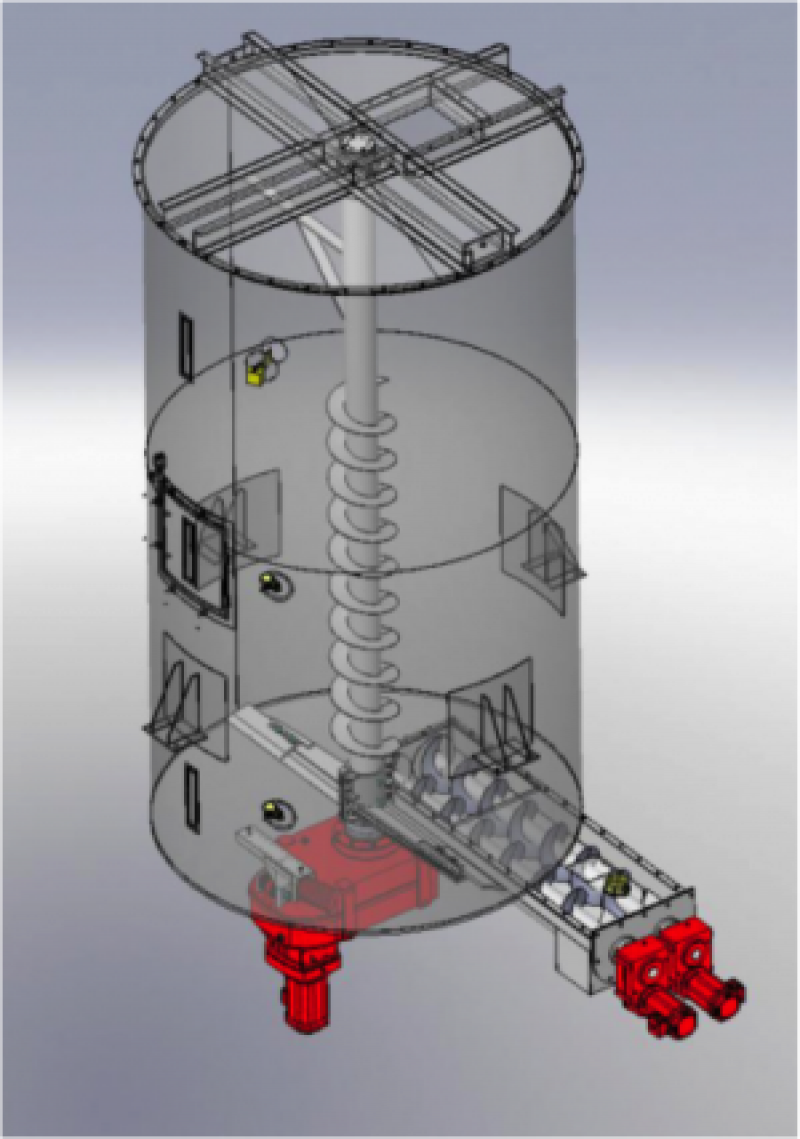 Types of silos and materials
The materials that we use to manufacture the silos are:
Carbon Steel
AISI 304 stainless steel for standard solutions and AISI 316L for food, pharmaceutical or fine chemical applications
Aluminum
GRP (plastic reinforced with fiberglass) for volumes up to 1500 m3
Trevira type textiles, up to 100 m3
1. Special silo for fibers, with bulk density over 50 and 100 g / dm3 and fiber lengths between 10-30 mm, we will use a silo with cylindrical section and flat bottom, with a central agitator and a scraper whose mission is to dose the material to the screw conveyor for its extraction. We can equip this silo with up to three screw conveyors and each with its own discharge port. This type of silo can also be used for some types of powders and flakes.
2. Mixing silos, also called homogenizers. We can use them with a cylindrical or rectangular section and we will generally use them in the supply phase and in the finished product phase. In the procurement phase, we will use them to homogenize the product before consuming it or transforming it, and finally, in the finished product phase, it will be used to homogenize it before delivering it to the customer or bagging it.
"Depending on the size, this type of silos has the advantage of covering two tasks, that of storage and homogenization."
"We offer modular silos with electric motors integrated in the same silo, and also cylindrical silos with different internal geometries that allow us, through an external propeller, to re-circulate the product as many times as necessary to achieve the optimum level of homogenization."
"Our offer includes silos of up to three chambers, reinforced or non-reinforced silos for the placement of load cells and silos with self-supporting structure. Any of our silos can be equipped with symmetrical or asymmetric cones, conical trunk, pyramidal trunk, or square base. "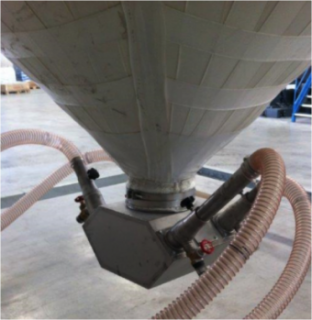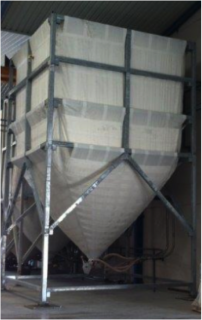 We include the complete installation with instrumentation, control and wiring:
Lightning rod and anemometer.
Access for cleaning and inspection, stairs, peepholes and lighting.
Level control: visual, paddle, plummet, guided radar, etc.
Sleeve filter.
Direct weighing systems using load cells.
ATEX solutions.
Safety valves for overfilling.
Depression valves to avoid implosions due to falling vaults.
Detectors of metallic and non-metallic particles.
Systems for dust collection.
Systems and extraction elements.
Filling systems.
Fluidification elements.
Heat insulation and insulation.
Internal automatic cleaning and drying.
Dehumidification and tropicalization as required by the material or the environment.